Episodes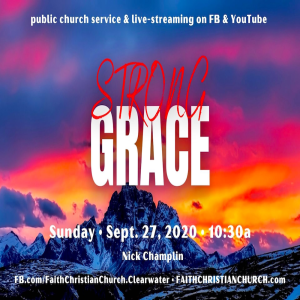 Sunday Sep 27, 2020
Sunday Sep 27, 2020
2Tim. 2:1-4 So you, my child, be STRONG in the GRACE that is in Christ Jesus.  And what you have heard from me in the presence of many witnesses entrust to faithful people who will be able to teach others also. (in other words, Make disciples who can make disciples.)
As I consider this verse against the backdrop of our present society I realize how much we're beginning to have in common with the early Church.  What a precise balance we must hold, walking through such a hostile world as Ambassadors of Christ, helping Hostiles become Disciples.  We must thread the Dual Horizons of Judgment against sin and Mercy for sinners. SO HOW DO WE, amidst the rising lawlessness keep from being pushed  by anger into Offense, or pulled by sympathy into Compromise.  With each passing day it's becoming more evident that only the narrow way of Jesus' cross can prevent us from swerving over one cliff or the other.  What does it take to stay on that path?  It takes being Strong in Grace!
What is Grace?  
Permission to Come
Power to Change
GOD is Working Here!
Strength in Grace begins as VISION.  It's seeing GRACE helping a Rebel—like you once were—become a Disciple like you now are.  Strength in Grace begins by REVIEWING the work GRACE has done in you—how it transformed you from the foolish sinner into the sincere Christ-Follower.  THEN Strength in Grace becomes your DESIRE TO SEE its Transforming Power change obnoxious sinners, rather than losing them to judgment.  THIS is the Strong Grace that will enable you to work in this hostile world, shaping broken lives into disciples who make disciples.  BUT this VISION comes at a PRICE.  Because this VISION doesn't work from the Heights of Elevation, but from the Depths Humility. 
1Pet. 5:6-7  Humble yourselves under the mighty power of God, and at the right time He will lift you up in honor.   Give all your worries and cares to God, for He cares about you.
If you want to be a Disciple-Maker, Strong in Grace, then it's COSTLY to follow Jesus.  You'll always have to keep Self out of your line of sight if you want to see GOD's Grace transform sinners.  But the Strong Grace of many will be lost...
Matt. 24:12 And because lawlessness will be increased, the love (agape) of many will grow cold.
We're in a Spiritual Battle, but people are not our Enemy.  Eph. 6:12  Our struggle is not against flesh & blood…  Don't let Satan get you to Fight Your Fruit!
Stay Strong in Grace.  Don't stare too long at the Lawlessness.  Remember Lot's wife.   We've never seen the captives of sin clinched so tightly in the jaws of Satan.  This is an Captured Generation in the Satan's Trap of Offense.   But REMEMBER…
Is. 49:24-25  Who can snatch the plunder of war from the hands of a warrior?  Who can demand that a tyrant let his captives go?  But the LORD says, "The captives of warriors will be released, and the plunder of tyrants will be retrieved.  For I will fight those who fight you, and I will save your children." 
Have the Vision of Grace and be Strong!   Remember that GOD who retrieved Jesus from the marble jaws of death can still deliver People from their Policies, and pull sinners from sin!