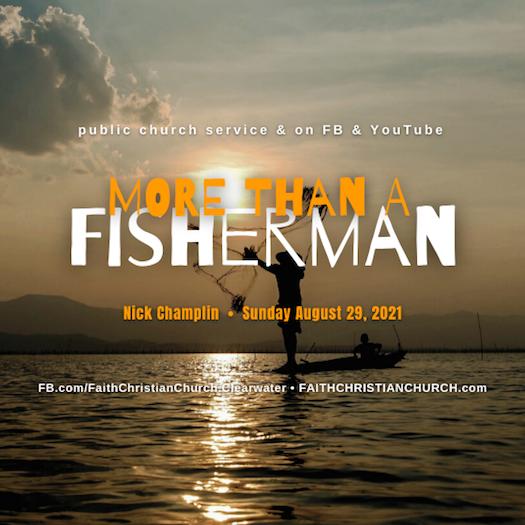 Mark 1:17 Jesus said to them, "Follow me, and I will turn you into fishers of people."
In this message, More Than A Fisherman, we're going to see, in the life of Peter, how GOD desires to raise us up to become much more than we are; making us Ambassadors of His Kingdom upon the earth.  So you must understand that when Jesus relates with you you He sees More Than A Fisherman. 
Man is the only creation that's Upgradeable. 
GOD made us Convertible. 
We're designed to Improve.

   

We can Rebound from a Downgrade. 
And be Elevated to live a higher purpose Above our station in life.
No other creature has that modifiable quality.  Even the Angels are fixed into their created purpose.   Lucifer could not survive his attempt to elevate himself.  Yet David writes, O LORD in the morning will I direct my prayer unto you and LOOK UP.
Paul writes, You are RISEN with Christ so seek those things that are ABOVE.
Notice the ELEVATION in these words that GOD inspired Paul to write to us…
2Co. 5:17  Therefore if any person be in Christ, they are a new creature: old things are passed away; behold, all things are become new.
Eph. 2:6 For he raised us from the dead along with Christ and seated us with him in the heavenly realms because we are united with Christ Jesus.
Rom. 6:4 Therefore we are buried with him by baptism into death: that LIKE AS Christ was RAISED up from the dead by the glory of the Father, even so we also should walk in newness of life.
Peter didn't realize it at first, But Jesus was about to awaken an eternal reality lying dormant within him.  As he struggled inside the life of a Fisherman, he was about to be Elevated into Sonship with GOD, and learn how to Integrate with the KOG…
Luke 8:10 Jesus said, "To you it has been given the opportunity to know the secrets of the kingdom of God…
No fish, no bird, no dog, ever lamented over their position in creation, or tried to elevate themselves.  But man never stops searching for The Door to More.   There is a DOOR created in man that doesn't exist in any other creature…
Rev. 3:20 Listen! I am standing at THE DOOR and knocking! If anyone hears my voice and opens the door I will come into his home and share a meal with him, and he with me.  What Door?
Everyone has this Door in their life, called a Soul.  It is The Designer's Door, and it remains in every person as a gate, a portal, to reconnect with GOD.   Man has used that DOOR to open himself to everything in the world, seeking to lift himself.  And nothing has elevated him.  But when Jesus is knocking at your Door, and you open to Him, He enters your soul and leads you into Life, Purpose, Glory.
John 10:9 I am THE DOOR. If anyone enters through me, he will be saved, and will come in and go out, and find pasture.
By Opening that Door, Peter went from a Fisherman, trying to push Jesus away—depart from me, I'm a sinful man—to a Soul-Winner through whom Jesus reached others—Such as I have I give to you.
Peter's Upgrade:  From Fisherman to KOG Ambassador
Matt. 16:16-19  And Simon Peter answered and said, You art the Christ, the Son of the living God.  And Jesus answered and said to him, Blessed art you, Simon Son of Jonah: for flesh and blood has not revealed it unto thee, but my Father which is in heaven.  And I say also unto thee, That you are Peter, and upon this rock I will build my church; and the gates of hell shall not prevail against it.   And I will give to you the keys of the kingdom of heaven: and whatsoever you shalt bind on earth shall be bound in heaven: and whatsoever you shall loose on earth shall be loosed in heaven.
When Simon the Fisherman declared to Jesus, You are the Messiah, then Jesus revealed to him, You are now Peter (A piece of the Rock).  And upon this revelation (in you) of my Lordship, I will build my Church…And give you the Secret Keys to the Door of the Kingdom of GOD.
The Ambassador's Keys
Psa. 24:9-10 Lift up your heads, O gates!  And lift them up, O ancient doors, THAT the King of glory may COME IN.   Who is this King of glory?  The LORD of hosts, he is the King of glory!
Those Ambassador's Keys unlock the blinding obstacles that keep sinners from seeing their Door of Deliverance and opening it so that the King of Glory may come in.
Why would GOD design man with a Door that could shut Him out?   Because that same Door of Free Will would one day open voluntarily to welcome the King Of Glory back in…
Sinners would choose His Goodness,

The Dying would reach for His Life,

The Fallen would seek His PURPOSE!
Today there are Doors of Glory concealed within Fishermen struggling to find their Glory in life.   And the King of Glory has come to Open and Lift them to their Destiny.